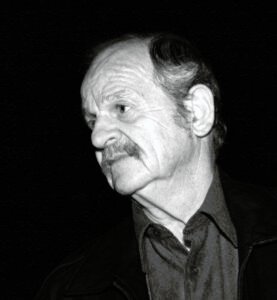 ---
A.D. Winans is a native San Francisco award-winning poet and writer. He is a graduate of San Francisco State College (now University).
In 2006 He won a PEN Josephine Miles Award for Excellence in Literature. In 2009 PEN Oakland awarded him a lifetime achievement award. In 2014 he was the recipient of a 2015 Kathy Acker award in poetry and publishing.
His name is on a plaque in North Beach with other poets and artists who have contributed to the North Beach literary scene, including Francis Ford Coppola, Allen Ginsberg, Lawrence Ferlinghetti, Jack Micheline, and other major Beat poets and writers.
From 1972 to 1989 Winans edited and published Second Coming Press, which produced a large number of books and anthologies, among them the highly acclaimed California Bicentennial Poet's Anthology, which included poets like David Meltzer, Jack Micheline, Lawrence Ferlinghetti, Ishmael Reed, Josephine Miles, Bob Kaufman, Harold Norse, Gene Fowler, Philip Levine, Glenna Luschei, Ann Stanford, Charles Bukowski, and William Everson. The Press received numerous grants from the NEA, the old California Arts Council, and CCLM, in addition to private foundation support. In 1986 the archives were purchased by Brown University.
He was one of 200 out of 2000 artists, poets, and writers who were chosen under the Federal CETA Program (Comprehensive Employment Training Act), working out of the San Francisco Art Commission, Neighborhood Arts Program, where he worked from 1975 to 1980. During this time he produced the Second Coming 1980 Poets and Music Festival, honoring the late poet Josephine Miles, Blues legend, John Lee Hooker, and poet and community activist Roberto Vargas.
He was an active participant in the Folsom Prison Writer's Workshop and other prison writing programs.
He is the author of over sixty poetry books. His poetry, prose, articles, and book reviews have appeared in over 1500 literary magazines and anthologies, including City Lights Journal, Beatitude, Beat Scene, Exquisite Corpse, Poetry Australia, The New York Quarterly, The Patterson Literary Review, The San Francisco Chronicle, and The Outlaw Bible of American Poetry.
In 2015 Punk Hostage Press published his book Dead Lions, a memoir on his friendship with Bob Kaufman, Jack Micheline, Charles Bukowski, and Alvah Bessie, one of the original Hollywood Ten who went to prison for defying the House Un American Activities Committee.
In April 2002 a poem of his was set to music By William Bolcom, a Pulitzer Prize-winning composer, and performed at New York's Alice Tully Hall.
Three poems of his were chosen and will be set to music by the New England Conservatory of Music for inclusion in a concert at a later date.
He has read his work at countless venues including the Keystone Jazz Club, San Francisco's famous Top Of The Mark, The Little Fox Theater, the Beat Museum, the Santa Cruz Poetry Festival, and the 2012 U.C. Davis Jazz and Beat Festival.
In 2012 The Louisiana University at Lafayette recorded a CD of Song Cycles by American Composers, and included in the CD is the song cycle of nationally acclaimed William Bolcomwith song-poems by Winans, Oscar Wilde, Ezra Pound, Langston Hughes, C.P. Cavafy, Kenneth Koch and others.
Writers like Colin Wilson, Studs Terkel, James Purdy, Herbert Gold, and the late Harold Norse, Jack Micheline, and Charles Bukowski have praised his work.
His poem San Francisco Streets was published in the San Francisco Chronicle ad part of a project by then Poet Laureate Devorah Major and was republished by City Lights Foundation. The Chronicle later published a profile on him.
He has worked at a variety of jobs, most recently with the U.S. Dept. of Education as an Equal Opportunity Specialist, investigating claims of discrimination against minorities, women and the disabled.

Winans is a member of PEN, and has served on the Board of Directors of various art organizations, including the now-defunct Committee of Small Magazine Editors and Publishers (COSMEP) The South of Market Cultural Center, and Friends of Support Services for the Arts. He currently serves as an Advisory Member on the NYQ Board of Directors.
His essay on the late Bob Kaufman was published in the American Poetry Review and was republished in 2007 by The Writer's Research Group.  In September 2009 the article was again re-published along with a poem of his for Bob Kaufman, as part of a booklet produced by the Los Angeles Afro American Museum.
He was interviewed and appeared in the film, "When I Die I Won't Stay Dead," a documentary on the life of poet Bob Kaufman that will be screened in May at the 2016 San Francisco International Poetry Festival.
_________________
PRAISE AND COMMENTS
He seems to me, quite simply, a natural writer of extraordinary talent. By this, I mean that everything I read by him fills me with pleasure because of a beautifully natural and easy use of language.
—Colin Wilson, author
Here is a word slinger, A. D. Winans, a poet of clarity, an artful man who makes it all seem so easy. A captive within his home port, San Francisco. A voice nailed onto the soil of his native land, capable of writing as he speaks.
—Neeli Cherkovski, poet and biographer
D. Winans is a man in search of his soul. He has a great heart and compassion for people and his native city, San Francisco. I like his uncompromising spirit. He pulls no punches.
—Jack Micheline, poet and writer
I find the title of your book (It Serves You Right To Suffer) admirable, and I like the poems too for their vigor and social relevance. Good work!
—Hayden Caruth, poet
A.D. Winans is one of the few writers I have met (and I have met too God Damn many of them) who doesn't act like a writer or think of himself continually as a writer, and maybe that is why he writes better than they do. I always prefer a poet I can tolerate for more than ten minutes; that's rare, and so is A.D.
—Charles Bukowski
Winans lays a creeping myth on the reader as easy as Kenneth Patchen.
—William Harold, English Profesor, Wisconsin University
I like your stuff (The Reagan Psalms) very much. It's a fine tribute to the pronunciations of the White House Toby.
—Studs Terkel
A.D. Winans has maintained a consistent dedication to his craft as the author of many books and hundreds of poems and short stories.
—Peter Coyote, Actor and Writer
Beneath everything, above everything, in your work seems a human and humane compassion toward the human drama and its actors and actresses.
—Antler, poet
A.D. Winans is an honest poet. He creates poetry that is forceful and also possesses a strong integrity. His poems are dark and beautiful at the same time. His poetry reminds me of a great blues song. Poetry at its best.
—Fredrik Oster, Factotum Press, Sweden
A.D. Winans' poems, in my opinion, more than matches that of any living poet I know in the USA
—Trevor Reeves, Publisher, Square One Press, New Zealand
"Winans" This Land Is Not My Land demonstrates his wide range. Winans disowns much of modern America. He puts me in mind of that character in Paul Theroux's The Mosquito Coast. He takes Allen Ginsberg's America to new places.
—Richard Real, Beat Scene
If you expected the raw facts, hard-hitting honesty of A.D. Winans, you won't be disappointed. This Land Is Not My Land stings with the robust delivery of political comments that is Winans.
—Black Bear Press
Your Panama war poems resonate for me more powerfully and memorably than any war poems I have read, including WW1 poets like Rubert Brooks and Wilfred Owen.
—Harold Norse, Poet
Winans writes primarily in the first person, using the contemporary cadence of short sentences (in a manner similar to Brautigan, Bukowski, or even John Rechy) to create a lucid transparent style that presents a story with economy and directness, neither developing literary conceits nor reaching for involved metaphor. This deceptively simple narrative style creates a complex and subtly adept voice that presents (in the best tradition of short story writing) a singular, realistically detailed and personal moment in such a way that it becomes luminous, and a broader significance is revealed through the particular.
—Poetry Northwest Review of Books