by Cathleen Calbert
($19.95, (7″ X 10″), 120 Pages, with 6 beautiful color paintings)
---
Winner of the Vernice Quebodeaux "Pathways" Poetry Prize
---
REVIEWS
"Cathleen Calbert has written a history of the world, but this time a woman is holding the pen and we're getting the real scoop from the girls, who have been writing it all along. From Eve through the virgins and saints and witches and bad girls–we hear the other side of the story. Women take to the high seas, and they know everyone's secrets. This is an angry book, a fiercely intelligent book, a book that will make you laugh and cry on the same page. Fasten your seat belts, dear reader. You're in for a wild ride."
—Barbara Hamby, author of All-Night Lingo Tango and Babel.

"The Afflicted Girls is a book filled with powerful voices. The poems are lush and textured, subtle yet fierce. This is a wonderful collection by a woman writing at the peak of her powers. Cathleen Calbert is a poet who has learned her trade, and her music is sure and original."
—Thomas Lux, author of Child Made of Sand and God Particles
---
AUTHOR'S NOTE
A number of years ago, I wrote a few dramatic monologues; then, as happens, I wrote a few more. Then a few more . . .
I wandered around the library at Macalester College, dragging home books through the snow. I wandered around Salem, gathering up pamphlets about those infamous trials. I wandered around soggy London, then tramped through the English countryside and tiptoed through homes of my literary heroes. I gazed at Millais' painting of Ophelia, thinking of the strange truths uttered by Hamlet's madwoman and of Lizzie Siddal, Dante Gabriel Rossetti's wife, sadly but beautifully posing as her.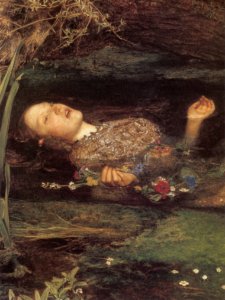 I felt released and renewed poetically as I pieced together portraits of various women, with no other agenda except my own wayward interests. It was nice to think about others' lives and write in response to them. However, I don't mean to claim that everything I have written regarding historical personages is "true." Despite the nerdy research, this collection isn't meant to be a work of scholarship, and I invoke "poetic license."
Richard Howard, my former teacher and a famous donner of poetic masks, once wrote, "I'll tell my state as though 'twere none of mine." Such is the nature of dramatic monologues, of course. In Adrienne Rich's lovely epistolary poem "Paula Becker to Clara Westhoff," the voices of the turn-of-the-century artist Paula Becker and Rich herself are intermingled, entwined. And I know my own less spectacular history shadows my subjects in this collection.
Finally, I might add that in the second decade of the 21st century, I see in fiction and film many strong young women: brave, noble, kind, true. They surely will affect the next generation for the better, and I'm glad for that. Yet I remain, perversely perhaps, attracted to afflicted girls: bright but troubled, beleaguered and embittered, funny but dangerous, righteous and wrong.
Such is the nature of poems and poets, I suppose: to enjoy a perpetual play of opposites.
Cathleen Calbert
Pacific Grove, California.