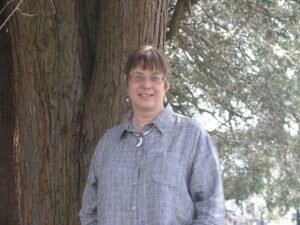 Mary Elizabeth Lang was born in 1947 in New London, Connecticut, where her father worked for the U. S. Navy. 
Her mother was a school teacher. For the first ten years of her life, Mary Elizabeth and her three siblings lived with their parents in a government housing project, which happened to have been erected during World War II on land which had formerly belonged to her colonial ancestors, and prior to that to members of the Mohegan and Pequot tribes. 
Then the family bought a two-family house in New London. She attended public schools in Groton and New London, then received a B. A. from Barnard College in 1969 and an M. A. T. from Yale University in 1970. Her career has included teaching in public schools, working for educational publishing firms, writing for a foundation conducting research in child development at Yale University, and teaching college-level writing, which she has done for the past 21 years. 
She has been married twice; she and her second husband, Bruce Neild, recently celebrated their twenty-sixth anniversary. Mary Elizabeth has written poetry at every stage of her life and began publishing in earnest while she was in her forties, but has never published a book of poetry prior to this one. After having helped to raise a family of one daughter and two stepchildren, Mary Elizabeth decided to go back to school and make a more formal study of poetry.  At the age of 60, she received her Master of Fine Arts in Poetry and Literature from Bennington College. During the course of earning that degree, she began writing about her family's oral history and the cultures of Southern New England from which it derives.